---
Introducing 2 in 1 Toothbrush
Electric Toothbrush, Automatic Toothbrush, Teeth Whitening Toothbrush and the 2 in 1 Toothbrush are the last evolution in dental hygiene.
Including 2 in 1 Toothbrush, the FDA-approved Next Generation in Teeth Cleaning and Whitening would be THE solution! With this technology, you can brush your teeth in only 10 seconds!
WhiteNeo360TM is the newest innovation in automatic toothbrush. Not only will it clean your teeth in 10 seconds, but it includes Cold Light Teeth Whitening, which works simultaneously. All you have to do is to put the mouth tray in your mouth, press the button and wait for 10 seconds! Then, it's time for you enjoy a your cleaner, whiter and brighter smile! teeth whitening toothbrush
---
How to use the Toothbrush?
Thanks to the electric toothbrush, cleaning your teeth has never been this easy! All you have to do:
Apply your favorite toothpaste on both sides of the mouth tray
Put the mouth tray into your mouth
Press the start button, switch to the "Brushing mode" and wait 10 seconds
After these three simple steps, you are ready to go show off your smile!
You thought that was easy? Well cleaning your 2 in 1 Toothbrush is even easier! You just switch to the "Cleaning Mode", rinse the mouth tray, and clean your teeth whitening toothbrush like a breeze! automatic toothbrush
Use cases
---
In the Morning
If you're like rest of us, you'd prefer to wake up without having to spend a lot of time getting yourself ready. Then this Toothbrush is the perfect solution! Thanks to this new technology, you now only need a few seconds to brush your teeth! Even better, you can put makeup on, prepare breakfast or check weather while brushing your teeth! No more being late in the office.
---
---
At Noon
It might be not convenient at all to bring your toothbrush at work and to brush your teeth in the office bathrooms, after lunch break. But with this Toothbrush, that won't be a problem. Thanks to its ergonomics, It can fit in your pocket. Moreover, as you need only a few seconds to clean your teeth, you no longer have to waste precious time during lunch break.
---
---
Before Bed
Let's be honest, after a long day at work, who's ever went straight to bed without even brushing its teeth? Now, you need only ten seconds! You can even brush your teeth in bed! It's the perfect solution to prevent any dental disease.
---
Technology Highlights
Cold Light Teeth Whitening
Teeth whitening is a popular treatment in dentistry. As one type of teeth bleaching techniques, the cold light whitening (or blue light bleaching) is a novel bleaching technique widely applied and accepted in Europe and we are looking forward to sharing that with the rest of the world. Moreover, the cold light bulbs, which are embedded in our toothbrush are safety Guaranteed. The blue light won't harm your teeth or gums.
Transparent Food-Grade Silicone Mouth Tray
The material of the mouth tray is 100% food-grade silicone. The advantages of food grade silicone are: highly resistant to damage and degradation from extreme temperatures; resistant to rain, sleet, snow, and the sun's UV rays; does not harden, crack, peel, crumble, dry out, rot or become brittle over time; lightweight, easy to transport; made from an abundant natural resource; non-toxic and odorless and recyclable.

Automatic Toothbrush is IPX7 waterproof, so it wouldn't break even if you accidently drop it into the water!
2 in 1 ToothBrush cleans your teeth with the Bass technique recommended by dentists.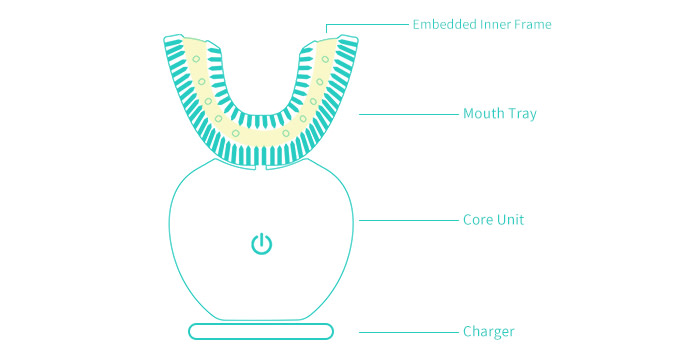 Embedded Inner Frame of the Mouth tray
We spent a really long time testing the cleaning effect. The greatest obstacle was that the silicone mouth tray may reduce more than 30% vibration output from the core unit. However, we finally found a solution — the inner frame! It's also made of food grade silicone yet we altered its density to make it harder than the rest of the mouth tray. With the support of the inner frame, the mouth tray is firm enough to deliver vibration from the core unit to the top edge of the mouth tray, yet its softness is still guaranteed to not harm users' teeth. more
---
Specifications
Modes: four modes(Soft cleaning mode/Strong cleaning mode/Massage gum mode/Whitening mode)

Material: toothbrush-edible grade silicone; shell-ABS

Cleaning method: Ultrasonic

Shape: U-type

Clean angle: 360 degrees

Cleaning time: 10-15 seconds

Charge time: 90 minutes

Charge:USB charging interface, wireless inductive charging base

Product size:1.2 x 2.6 x 4.5in

Waterproof :IPX7
FAQ
If you have any questions, please don't hesitate to contact us
Free Global Shipping
without min purchase
Student Discount
Get 10% off 24/7
14 Days Return
Moneyback Guarantee
24/7 Support
Online consultations
Safe Shopping
100% secured payment
2 in 1 Toothbrush – Electric Toothbrush – Automatic Toothbrush – Teeth Whitening Toothbrush – Teeth Whitening – Teeth – Toothbrush – Best Electric Toothbrush – Toothbrush Holder